Historic, Southern Wedding Venue
Indoor & Outdoor Settings
Historic Wedding Venue Near Chattanooga, TN
Located only 20 minutes from Chattanooga, Tennessee, McCoy Farm & Gardens provides the perfect venue for your wedding celebration. Featuring a historic home and barn, shaded pavilion and woodlands, and beautiful greenery – McCoy is the perfect romantic spot for weddings both large and small.
McCoy Farm & Gardens offers several location options for ceremony and receptions. Our Bachman manor house has a bridal suite with private bathrooms and plenty of space for prepping for the big day. 
McCoy's natural woodlands offers gorgeous scenery for your special day. Schedule a tour of the property today and imagine yourself saying "I do" at McCoy!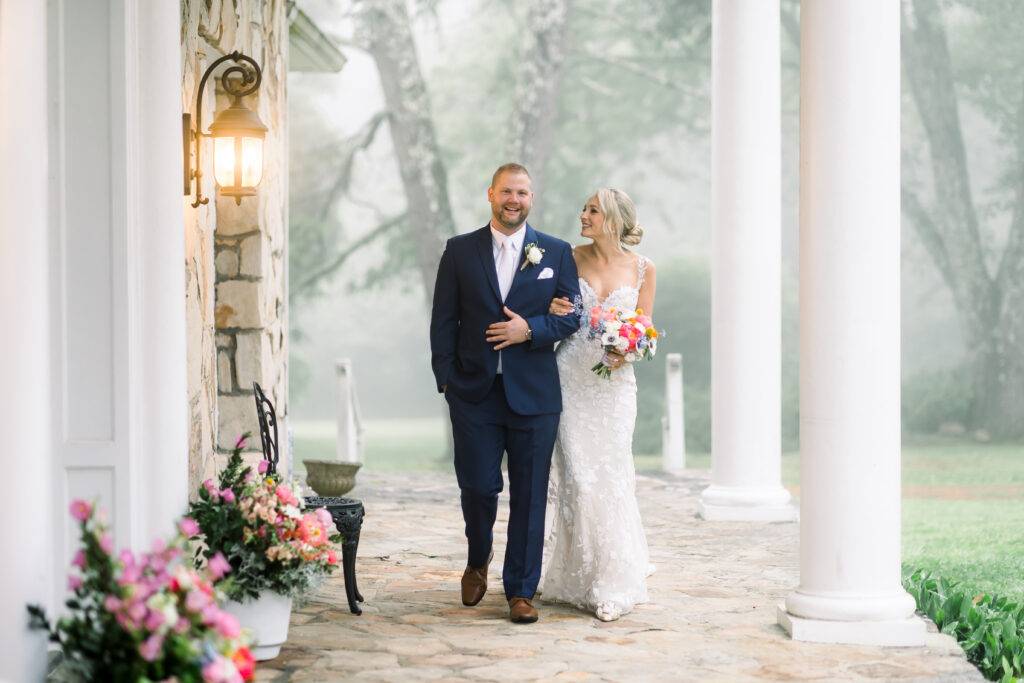 Features of McCoy Farm & Gardens
Historic

,

mountain stone home and beautiful, ever-changing gardens

Multiple, unique ceremony and reception sites, from woodland settings to the more formal boxwood gardens

 

Onsite parking for 80 cars with more satellite parking upon request

 
Indoor and outdoor settings for your celebration

 

Countless picturesque backdrops to capture your perfect day

 

Bride and Groom Dressing Rooms available with House reservation

 
Grand Estate Package with Gardens
15 hours of use over 2 days / 250 guests max
Friday or Saturday $4,000
Sunday - Thursday $3,000
Rehearsal Dinner Space, House, Pavilion, Barn, Bridal Dressing Room, Groom's Suite, Garden & Grounds 
12 hours of usage the day of the event / 250 guests max
Friday or Saturday $3,000
Sunday - Thursday $2,000
House, Bridal Dressing Room, Groom's Suite, Garden & Grounds 
10 hours of use over 2 days / 250 guests max
Friday or Saturday $2,000
Sunday - Thursday $1,500
Pavilion, Garden & Grounds
10 hours of use over 2 days / 250 guests max
Friday or Saturday $1,500
Sunday - Thursday $1,250
3 hours of usage the day of the event / 50 guests max
Rehearsal Dinner $750 for 5 hours of usage when not included in package 
Additional Scheduled Hours $150 
Additional Unscheduled Hours $300 
Clean up Fee 5% of package Price 
Equipment Rentals (includes set up and take down) 
 Tables $8.00, Chairs $3.00, Speaker $100.00 
50% deposit of rental package to reserve the venue 
Remaining balance is due 90 days prior to the event 
Damage deposit of $500 is due 90 days prior to the event as a separate payment that will not be deposited. 
Equipment rentals and clean up fee can be paid the day of the event. 
Frequently Asked Questions
What dates do you have available?
How many guests can you accommodate?
We have packages that can accommodate up to 250 guests.
What is the smallest wedding package you offer?
The Almost Elopement package is excellent for intimate weddings and accommodates up to 50 guests.
Are a rehearsal and rehearsal dinner included?
A one-hour rehearsal is included with every package. A rehearsal dinner is included in the Grand Estate Package. A rehearsal dinner can be added to other packages for a $750 flat fee (maximum 5 hours).
How do I schedule a tour?
The grounds are open daily from sun-up to sundown. We invite you to visit and see the grounds anytime. If you would like a tour of the House or to speak with the Event Director about your special event, please contact us at [email protected].
What forms of payment are accepted?
We accept personal checks made out to McCoy Farm & Gardens. Checks can be mailed to PO Box 443, Signal Mountain, TN 37377.
A signed event contract and 50% of the package fee are required to reserve a date.
What are the payment details? Do you require a security deposit?
50% of the package fee is required along with a signed event contract to reserve a date. Final payment is due 90 days prior to the scheduled event. A $500 security deposit is also due at the time of the final payment under a separate check.
What is the cancellation policy?
Once the venue is reserved, McCoy Farm & Gardens does not offer refunds, full or partial. If an extenuating circumstance should arise, McCoy Farm & Gardens will make every effort to work with the client to secure an alternate date within the twelve-month period following a revision.
Do you require event insurance?
Insurance is only required when alcohol is served at the event. If the renter is serving alcohol to guests, at least one week prior to the Event the renter must supply to MFG a Certificate of Insurance that names McCoy Farm & Gardens and the Town of Walden as additional insureds for the Event. Upon request, the Event Director will facilitate the purchase of event insurance.
What are the event hours?
Reservation can begin as early as 8am and must conclude no later than 11pm. All amplified music must end by 10pm. Everyone must be off the grounds by 11pm. Tents and other structures must be picked up the day after the event or on Monday for weekend events unless special permission is received.
MFG will not refund money due to inclement weather. The MFG Event Director will work with Renter on a rain contingency plan. The MFG Event Director strongly recommends rental tents or any portion of an Event that is to take place outdoors for over 75 guests. Tents must be secured by the Renter. The MFG Event Director can recommend tent vendors and help with installation coordination.
Yes. We require an event alcohol policy to be purchased at any events that will be serving alcohol.
Do you require the use of specific vendors?
No. You are welcome to use vendors of your choice.
Yes. Tents can be erected in the gardens or orchard with any package except the Almost Elopement Package.
What facilities are available to caterers? May I cook onsite?
Cooking from scratch is not allowed except for outdoor grilling with grills brought by renter or caterer.  Appliances include a freezer, microwaves, warming ovens and a refrigerator.  There is no stove top for cooking.  Chocolate fountains and punch fountains are not permissible indoors.  Beverage stations and coolers should be set up on porches, out of doors, or over tile – preferably other than where there are wooden floors.  Sterno-type warmers are acceptable in designated areas, if the area is supervised. Radiant heaters may be used, except in the house, but must be approved by MFG Event Director. 
Day you require a Day of Coordinator/Planner?
No. We highly encourage you to engage one.
Where is parking located?
We have a gravel parking lot next to the orchard that accommodates approximately 80 cars. Overflow parking may be available upon request.
Are tables and chairs available?
We have rectangular tables and chairs that can be added on to any package. You may also rent from an independent vendor if that better suits your needs.
Can my pet(s) walk me down the aisle?
Yes! We welcome pets in all outdoor spaces. We do not allow pets in the indoor spaces such as the House and Pavillion. Pets are required to be on a leash the entire time they are on the property.
Is the property handicap-accessible?
The first floor of the House and Carriage House restrooms are wheelchair-accessible.  There is not a wheelchair accessible bathroom in the House.  There is a restroom on the first floor. The outdoor event spaces are grass and relatively flat. We have a golf cart that can be used to shuttle guests from the parking lot to the event.  We also allow cars to use the gravel driveway to drop passengers off close to the House or event, but they must return to the parking lot to park.
Where are the closest hotels?
There are no hotels on Signal Mountain. There are some short-term rentals and a few bed-and-breakfasts nearby. The closest hotels are only 15 minutes away in downtown Chattanooga.